Fresenius Diasafe Plus (Dialysis Fluid Filter)
          Fresenius diasafe plus is a dialysis fluid filter.  Fresenius Polysulfone material is used to build this diasafe plus with effective surface of 2.2m2 and weight about 170gram.
Normally while doing dialysis a large volume of dialysis fluid come into contact with patients bloodstream.
The dialysis fluid which is a mixture of acid and salt may contain microbial impurities which may cause disease to the patient.
So to reduce the contamination to the blood it is required to use ultrapure water for dialysis.
This ultrapure water of dialysis fluid can be achieve by using Fresenius Diasafe Plus  which work as a dialysis fluid filter.
Use of this Fresenius diasafe Plus  can reduce the microbial contaminations from 100 (cfu/ml) to less than 0.1 (cfu/ml) .
This Fresenius Diasafe  plus dialysis fluid filter is used with Fresenius 4008 and 5008 machine.
For best results it is recommended to change the diasafe filter after every 12 weeks or after 100 treatments done.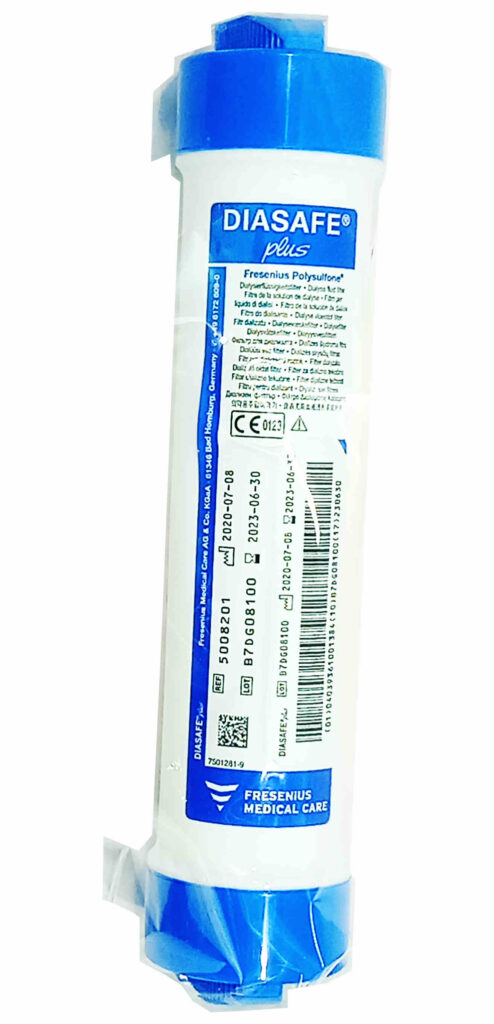 The Performance data of Fresenius Diasafe Plus
5ml/min x mm Hg (3.75 L/min bar, max 2bar)