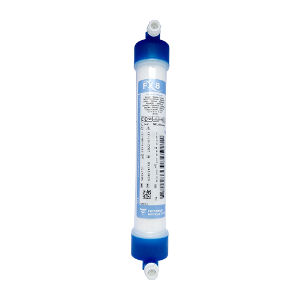 Fresenius Fx8 dialyzer is the single use dialyzer. It gives the best performance in dialysis.
            It is a part of Fresenius FX Series Dialyzer. The structure of fibre bundle, membrane ,flow port and housing design provide the performance of the dialyzer along with safety and handling.
            The optimal membrane permeability design gives minimal loss of blood components. It gives homogeneous blood flow inside the dialyzer. 
             It has the effective surface area of 1.4 m2 . The housing of the dialyzer is made of polypropylene  which make it lighter.
            The FX Dialyzer has reduced in inner diameter  and wall thickness of fiber which increase the internal filtration.
Also the material and effectiveness are given below:
* Ultrafiltration coeff:12 . (mL/h x mmHg)
* Effective surface area 1.4 (m2 ):
* Blood filling volume: 74 (ml)
* Membrane material : Helixone®
* Housing material: Polypropylene
* Potting compound : Polyurethane
* Sterilisation method : INLINE steam
* Application : HD/HDF/HF
The performance data are given below:
Clearance: QB: (200ml/min)
Clearance QB = 200 mL/min
* Urea :191
* Creatinine: 178
* Phosphate : 160
* Vitamin B 12 : 107
             If you required multiple use dialyzer you can use Fresenius F6HPS which is from Fresenius and provide you best dialysis of multiple times.